Ok it's been a while. Last time it was "a while" I lost most of my readers, but I know the ones who really care will make there way back to me. I was writing an email to Leah Elison and sent her some photos so I decided to share them with you.
I am so completely, enamoured with my husband. He is just so awesome. oh and the thing with grandma didn't work out. we bought a condo. we love it. we have two rooms so you can stay with us if you ever want to visit utah.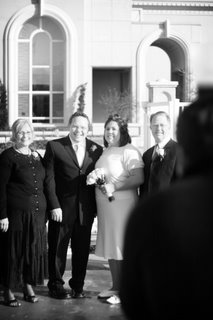 Story:
I was getting out of my temple clothes and putting on my wedding outfit when I realized, I didn't have my wedding shoes. it's a good thing that temple slippers are white because they had to suffice. they were pretty wet and dirty after all the pictures around the temple. but you know what, forgetting my shoes and wearing slippers around is so me. so in the end I am pretty glad that it happened. another important thing, I felt like my wedding outfit was me-- simple, not to froo froo. I think that is the best part about going to events-- not that the event suits your fancy but that it fits the person who it is for.